Top Features
---
Three ranking methods
Support three different ladder ranking methods including Elo (1600-initial), Points (for wins/losses/draws), and Tournamatch's unique competition-encouraging 'Rung Up' algorithm.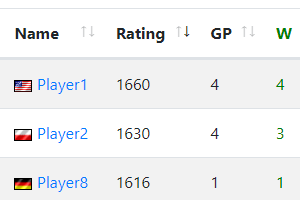 Sign-up using new or existing names
Players and teams may sign-up to ladders using past names or create new ones. Multiple names are still linked to their user account.
Challenges
Users can challenge other players or team. Each challenge may be accepted, denied, countered, and support 3 match and map choices.
Three play styles
Ladders support Open-Play, Challenge only, or both.
Standings
Ladder standings page displays wins, losses, win percent, rating, rank, last match result, streak, and days idle statistics.
Fully customizable
Admins can add, edit, and delete ladders; can manually signup players or teams; and can report matches manually if desired.